Seer
Staff member
Staff Member
The King's Faire is once again upon us!! This year we announce a writing contest sponsored by the Knight's Guild and open to all citizens of Avadon!
Grab your quill and a book and write down anything that comes from thy mind! Perhaps a Treatise on a subject of interest, or a manual of arms for those who seeketh Knowledge in the combat arts. A tale of fiction or poetry; it is truly a blank landscape that is just waiting for you to release on parchment!

All entries should be written in in-game books (any kind of book that you can edit is fine, but blue books from NPCs contain 40 pages while the others contain 20). The title and author sections of the book can be whatever you want (if you wish to make up an author for your book, go ahead). On the first page of your entry, you should include your Discord handle/contact info. This information will be removed before the book is displayed at the end of the contest. Entries that are missing contact info will not be qualified to win, but may still end up on display.

Books will be judged on creativity and flair. The content of all entries should be focused on Outlands/Avadon or the greater Ultima universe in general.

You are welcome to enter as many books as you'd like, but quality over quantity is more important. Multi-book entries are allowed if a single 40-page book is insufficient space. There is no real limit, but we do ask that you keep the length reasonable.

We know there are many players who are not native English speakers so grammar and spelling are not a major factor in any judgments.

All rules regarding language for Outlands apply to the writing contest. Avoid using crude, racist, sexual, etc language. The drop box logs each player who drops off a book so it is not anonymous. Should a book violate the rules of the server, depending upon the severity, action can be taken against the creator if necessary.

Judging will be conducted by a panel of anonymous judges, and overseen by myself (Erik Gray) for final judgements.

All qualifying entries will be placed within the Prevalia library at the end of the contest, open for the whole public to read. The top three winning entries will be displayed prominently. In addition, the top three winning entries will receive the following rewards:
1st Place: A special-hued Scholar statue engraved with the winner's name; A special-hued writing desk and pen set; a special-hued unique book (writable); 500,000 gold coins from the Knight's Guild.

2nd Place: A special-hued writing desk and pen set; a special-hued unique book (writable); 250,000 gold coins from the Knight's Guild.

3rd Place: A special-hued unique book (writable).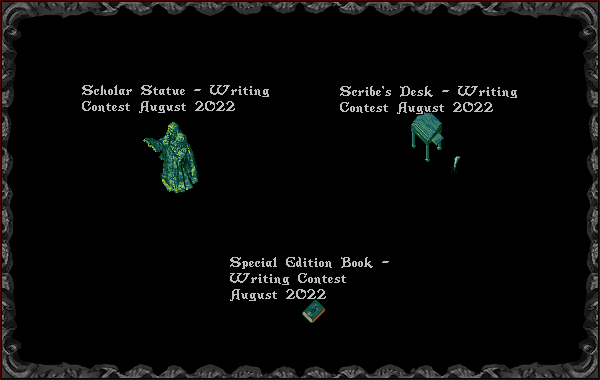 Please drop off your books inside of the Prevalia Library here: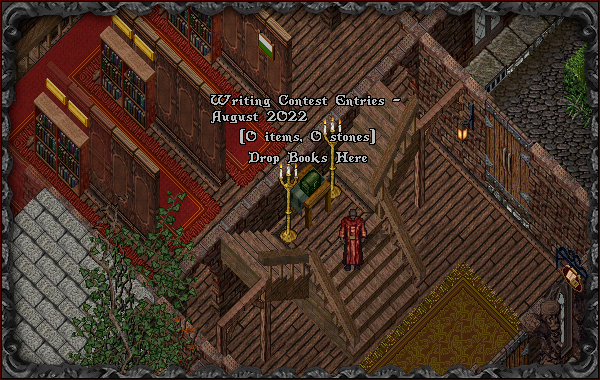 Contest runs from now until
September 4th
, one week after the end of the King's Faire. The winners will be announced after all entries have been reviewed!

Good Luck!!
------------------------------------
General Tips:
Sometimes editing is more important than writing. Do all of your writing first, give yourself a break, and then go back and edit, edit, edit!

Think about writing perspective and be consistent when you choose one. If you begin a book written from first-person perspective, then keep that perspective throughout.

If writing descriptive text, think about using all of the senses to describe the scene.

Show, don't tell. This is the difference between: "Frank was tired" and "Frank slumped to the floor, his halberd rolling from his slack fingers as he fought to stay conscious"

Try to do your writing early so you can have more time to edit. If you wait until the final hours of the contest, you might not have the time to polish your work.

If you are unsure about what to write about - think about what interests you most when playing Outlands. Do you like to PvP? You can write a guide on PvPing, or write a story of a particularly interesting PvP encounter that you had. Do you like to fight monsters? What is a particularly memorable moment that you've experienced? Are you a ne'er-do-well? What was your most interesting and adrenaline-inducing heist? Draw from your own experiences.

Alternately, delve into research! The Prevalia Library has hundreds and hundreds of texts on numerous subjects as well as creative literature. Maybe something there can spark inspiration!

Keep things concise when possible. Don't fluff your writing with superfluous wording.

Practice using "active voice" in your writing instead of "passive voice": Instead of "New virtues were written by Chancellor Xibald" use "Chancellor Xibald wrote new virtues"

Proof-read before submitting anything for consideration. This is usually part of the editing process. Don't skip it!

You are the story-teller of your book. Try to think about what makes a story or piece of writing interesting to you. Looking up the breakdowns of some popular stories online can help a lot to give you an idea of how to structure your own story.

When in doubt, read out loud! It might sound silly, but if you read your writing out loud to yourself you will quickly catch any odd or bulky wording.

Don't avoid writing because you don't think you are good at it. Writing, like any worthwhile endeavor, takes practice and time. Just keep at it and don't be embarrassed to submit an entry that you feel is subpar. Everyone is their own worst critic!

Don't let perfect be the enemy of good. Too often people will completely miss a deadline for their creative endeavor because they didn't think their project was perfect. In reality, it doesn't have to be perfect. It just has to be finished.

Try and have fun!
Last edited: