A series of EIGHT 1v1 Order Tournaments will make up the 1st Outlands Arena Tournament Series, culminating in a CASH PRIZE TOURNAMENT!
Tournaments will utilize our Automated Tournament System each week. Players are allowed to enter only one character each. Order rules are as follows: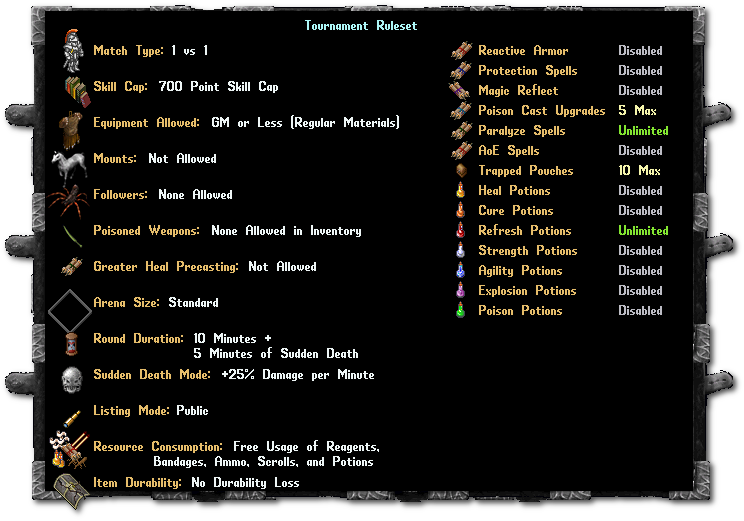 ARENA TEMPLATES:
Remember that you can create Arena Templates to theorycraft, customize and perfect your skills before the tournament. An Arena template must be selected BEFORE the tournament begins, and once it has begun, it cannot be changed.
PRIZES:
WEEKLY WINNER:
In addition to the sponsored Weekly Prize, each weekly winner will be adorned with a unique, limited edition "Gilded Summoners" robe & a "Gilded Hood" (dyed in the hue of the winner's choice and blessed). The robe, however, will change possession every week to the latest victor!
(You do not get to keep this prize, but get to wear it to display your arena prowess!)
SERIES CHAMPION:
The cumulative Champion of the 8 Week Tournament Series will remain in possession of the Champions Robe & Hood (dyed "Evil Mage" hue or another hue of your choice and blessed), receive a character statue in the arena and their home, and a Golden Trophy to commemorate the occasion.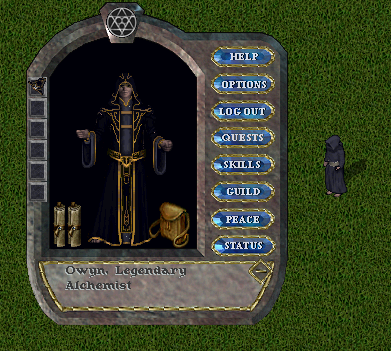 CONSOLATION PRIZES:
Consolation prizes are TBD, but we plan to hand out a prize to every player who garners points (see SCORING) during the series which will be given out at the conclusion of the event. (March 21)
SPONSORED WEEKLY PRIZE:
We are currently seeking sponsors for each weekly prize! Please contact Owyn via Discord to arrange your contribution (gold, etc).
SCORING:
1st Place - 10 Points
2nd Place - 8 Points
Semi Finals - 6 points
Quarter Finals - 4 Points
To the victor go the spoils, and may the best duelist win! Good luck to all participants!