Nymaeron opened his eyes. He did not recognise the ceiling, nor did he recognise the day and the time. The room he was in looked very simple. It was small in size, with very basic furniture such as a dresser, a table, a chair. The walls were white but few mould stains could be spotted especially alongside the window. The window would show a lonely cabin alongside some cattle pens, but then would extend to a vastness of blue beyond, just like the Western Sea.
He shuffled in the bed and got up. He had a major headache and his whole body was aching beyond anything he had ever encountered before. He tried to make a step but he couldn't find his balance and instead knocked the small dresser next to the bed. He heard footsteps approaching. The door opened, a figure in some sort of fishermen's attire came through. He looked old and scruffy, with a pipe in his mouth and an obvious limp.
"Ye alroite lad? There there, get back to bed. I think ye need to rest a wee bit more. Ye need anythin'? I know dae owner, i'm sure she can give ye a free meal as well as the free bed."
Nymaeron got up with the help of the old man. He sat down on the bed and tried to recollect his moment.
The last thing he remembered was that he was swimming without looking back. A bit later, he saw the foot of a pier on an island and he collected all of his remaining strength to get up. It took him a few tries but eventually he did. He had swallowed so much water while swimming, the first thing he did when he got on the pier was to collapse and throw up.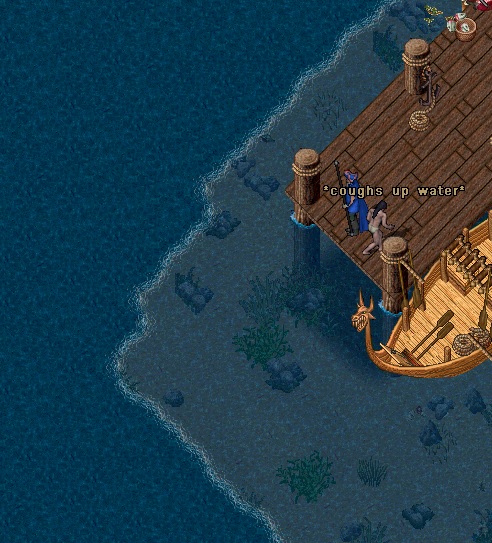 He managed to stood up to see where he was. He didn't recognise this place. A small communal garden with lots of young people running around, surrounded by few integrated blocks of buildings that had various signposts of different crafts. The smell of fish nearby made him realise that this was the fishing dock of this little town. His clothes, turned into mere rags, couldn't shield him from the strong wind from the south. He got cold. He tried to walk towards to the town to find some warmth, but more important than his physical condition, he was concerned with knowing where he was.
Having used all his energy for swimming, he could only make few steps before losing consciousness.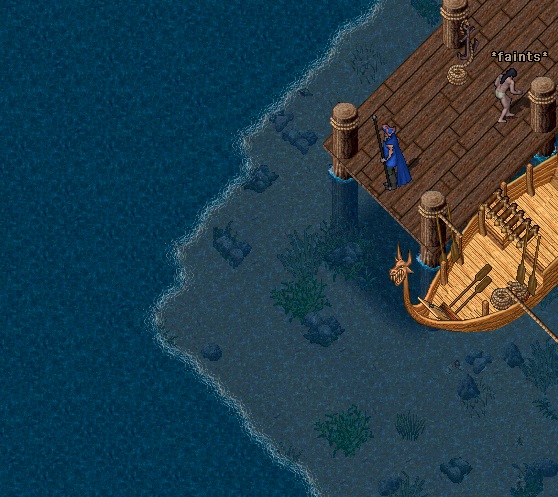 His memory came back to him, however he still didn't recollect anything before the time he got on the island. It could be some sort of a magical effect, or his extreme physical condition could be playing games with his head. He decided he needed to eat and rest a bit more. He asked for some food. The old man nodded, and started limping back towards the door. Before he left, Nymaeron, conquering his headache for a split second he uttered:
- Where am I old man?
- Th' name's Bill, and yer in what they call the Shelter Islay. This is where most adventurers end up aftae bein' lost. But yer safe now.
The door closed. "Safe". It was a funny word to Nymaeron. He lay on the bed again and forced his mind to remember how he washed ashore here.
Last edited: