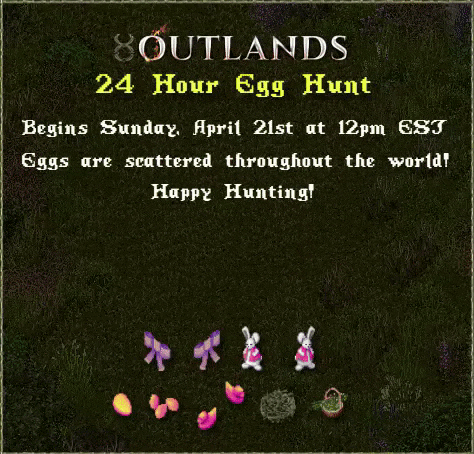 Find Hidden Eggs Throughout the World to Earn Event Points!
The Unseen Bunnies of the Outlands will surface to u
nload their prized eggs throughout the world, beginning Sunday, April 21st at 12pm EST.
Eggs are hidden until a player walks nearby (visual and audio cue on discovery)

Eggs will spawn randomly in one of our

unique hues

Eggs found in the wilderness/dungeons

will

spawn an event creature
Eggs found in town will not spawn an event creature

Once the event creature is slain, the Egg can be picked up

Double-click the Egg to receive an Ankh Token type reward (and keep the Egg for deco afterwards)

Picking up an Egg counts as +1 Event Score

Type [eventscore to see your progress

When the event ends, any remaining eggs will be removed from the world

There are 252 Eggs hidden within towns, dungeons, points of interest, etc. EXPLORE!

Once the event has finished (Monday, April 22nd at 12pm EST), any remaining Eggs will forever disappear. The top 3 players with the most Event Points will be able to select unique rewards (pictured below):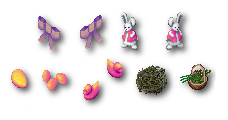 1st place may choose 3 rewards

2nd place may choose 2 rewards

3rd place may choose 1 reward
Happy Hunting!
Available on the Prevalia Merchant:
Limited Edition (never to be seen again)

Potted Plants

Hue 2816

Can only be purchased with Gold

Available until Saturday, April 27