This router is replacing my TP-LINK AX50, which had high buffer bloat, poor QOS (it didnt work), and poor performance. I had another early AX router that shared similar issues. (AX WIFI 6 Router)
This one is tri-ban (three channels) but I would get their "Zen AX8" series for mesh networks (AX , this one does ac mesh) or their expensive gaming 11000 version if needed. I bought it from newegg and used paypall credit (0% interest)
ASUS will have a "tuf" line release in June as well which is geared to gamers:
https://www.newegg.com/asus-rt-ax92...t-ax92u-_-33-320-397-_-Product&quicklink=true
I bought this after reading all the awesome reviews from this site, he has a ton of good details on the higher end asus routers:
https://dongknows.com/asus-rt-ax92u-review/
settings: I used the option to have a single SSID (all three 2.4ghz, 5.2ghz AC and 5.2ghz ax).
a. use dslreports speed test to measure bufferbloat before replacing the router, after replacing then after configuring. Also use the packet loss site.
http://www.dslreports.com/speedtest
- select cable test
https://packetlosstest.com/
b. I also recommend power cycling your modem (unplug power cord, wait 30 sec) or reset it if you know how , especially if you havent since making the purchase or have issues accessing it.
BEFORE STARTING:
A. UPDATE FIRMWARE
B. WAIT FOR FIRMWARE TO UPDATE
C. AFTER IT IS COMPLETED FOLLOW THE INSTRUCTIONS TO RESTART THE ROUTER MANUALLY (TURN OFF/ON once its done only!!!)
This is done under "administration" > "firmware update" tab in the council.
via:
http://router.asus.com/
or 192.168.50.1 or whatever your router IP address is.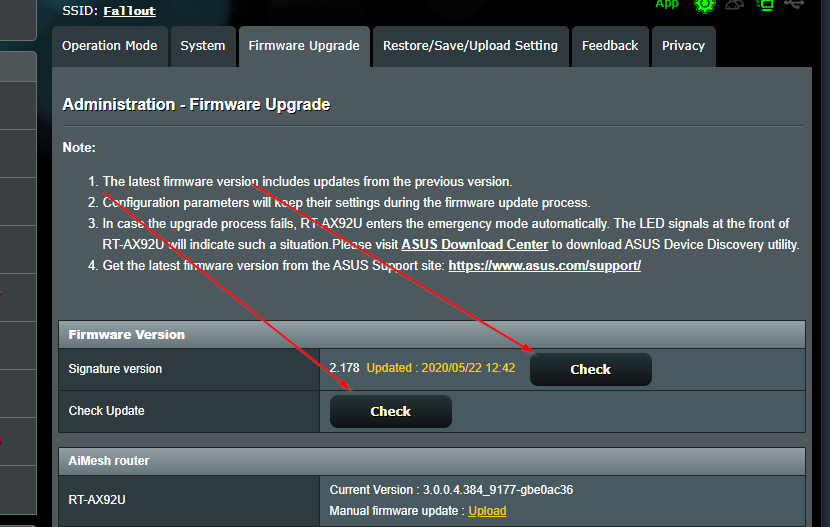 CUSTOM CHANGES:
-make sure to apply/wait between all changes tabs!
AIPROTECTION: Enable this for security (click network protection and enable)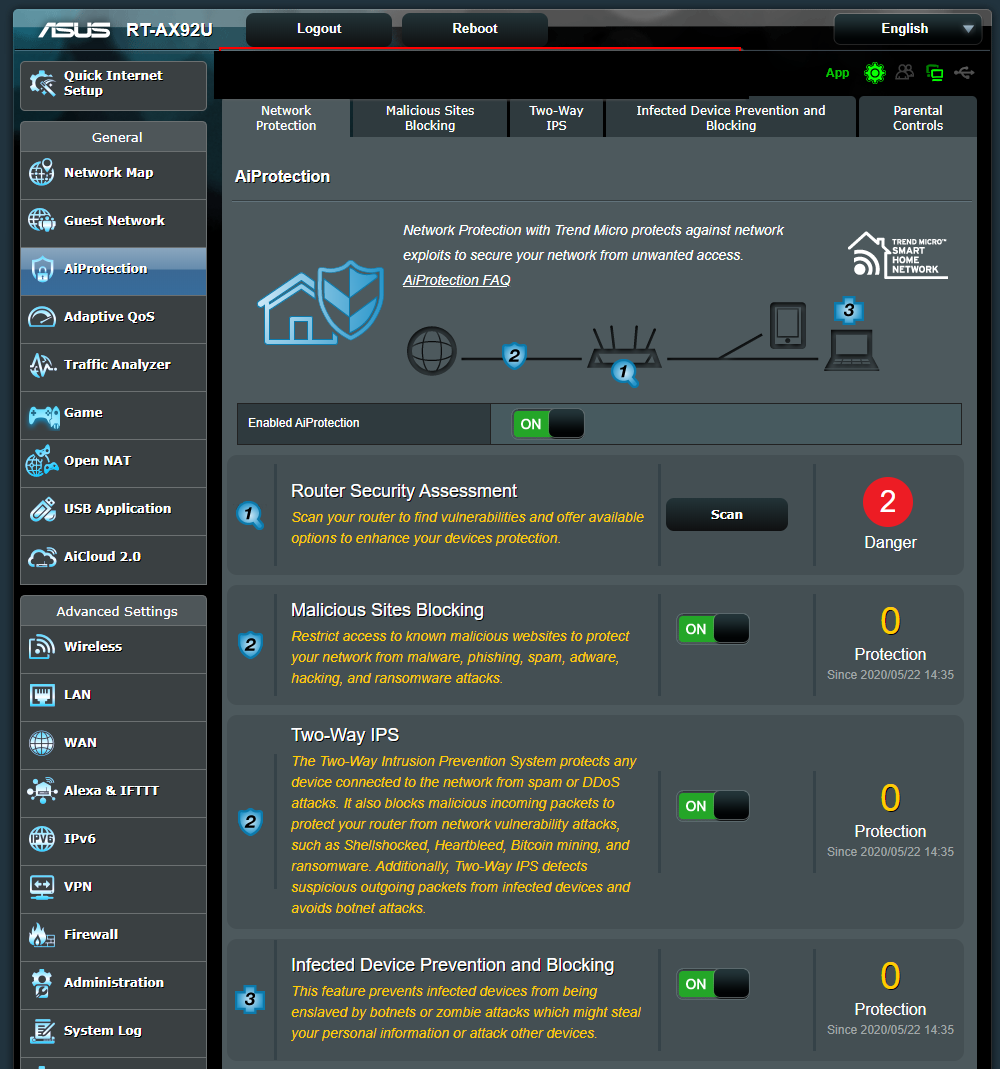 2. ENABLE ADAPTIVE QOS
- then find your gaming pcs, xbox, nintend, ps4 etc and drag "highest/red" priority over them.
- work computers I did high priority (vpn, voice etc)
- do this on adaptive qos "bandwidth monitor" tab once enabled
- go to QOS tab after if not prompt to enable adaptive qos
-make sure to apply/wait between all changes tabs!
3. QOS tab in adaptive qos:
- enable/on
- adaptive qos selected
- set your upload and bandwidth for your ISP services that you pay for. If you do not know, use a network cable (wifi has lower speeds!) and use a speed test like dsl reports to measure your download/upload speed, check your isp bill etc.
- My network is 200Mbs download and 10Mbs upload. However my ping was bad, bufferbloat (lag/ping) was bad, performance was poor. The trick for me was to do "a little less than max"
- so I use 182 download and 8-9 upload (8 or 9 is fine), this kicked QOS in earlier and reduced my ping and bufferbloat issues completely
- APPLY, then choose the customize profile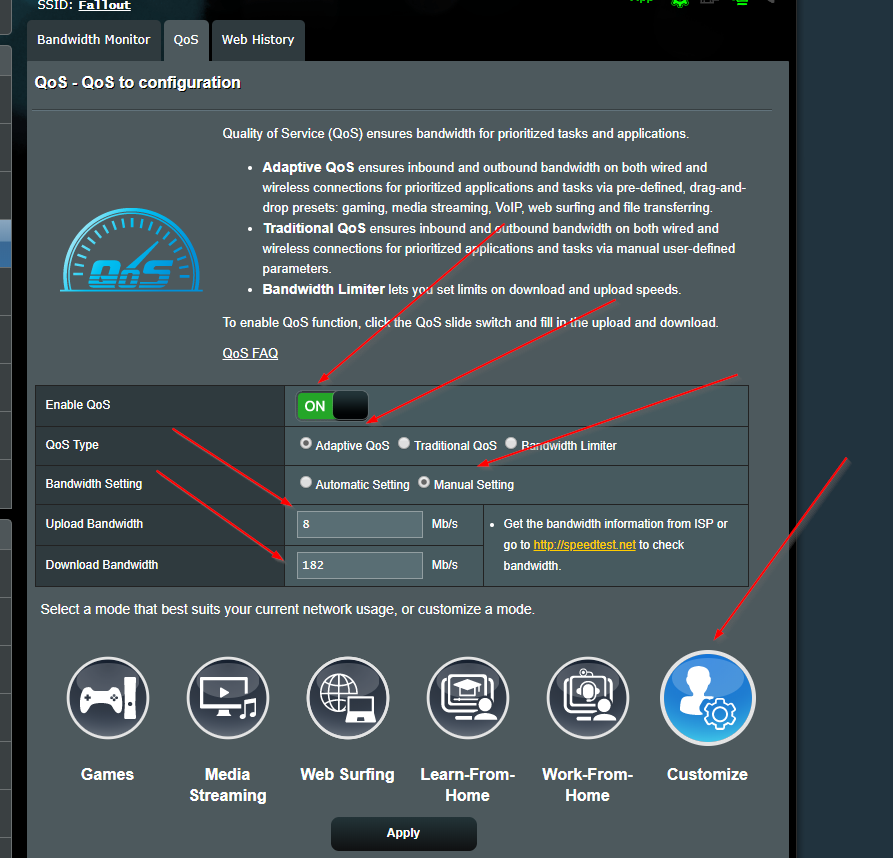 Last edited: