Cannons roared, drowning out the shouts and orders of the crew of The Lusty Wench. Thankfully the enemy barrage mostly missed, passing just over their heads. A stray shot battered across the quarterdeck and took the took the leg of crewmate @Macshin clean off below the knee. He fell to the deck in shock, grabbing his now severed appendage and trying to put it back in place.
"Fucking hell…" Jack cursed. "Furl the sail! Hard to Port! Ready the starboard cannons you lousy seadogs!!" He bellowed.
They had been harassing trade ships bound for New Trinsic (Cambria) for weeks. Striking swiftly from their outpost base on Scallywag Island, east of the city. Those they had captured were put to the sword if injured or kept to be sold to the slavers operating out of Horseshoe bay. Jack's plans were meticulously thought out. Cut off trade to treacherous
King Arshiya
's
force's in Cambria. Create economic unrest in the City. Then spark rebellion. Once Arshiya's head was mounted on a spike above the city gates, along with his whore wife Lady Kiriana, his crew would take their rightful place as leaders of the Free City of New Trinsic.
Trinsic Fleet decimates enemy vessel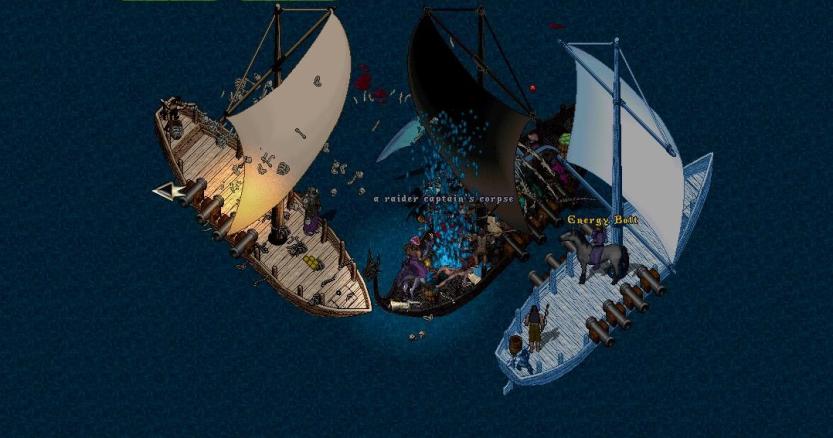 Outnumbered, the Crew of the Lusty Wench sinks two ships with ease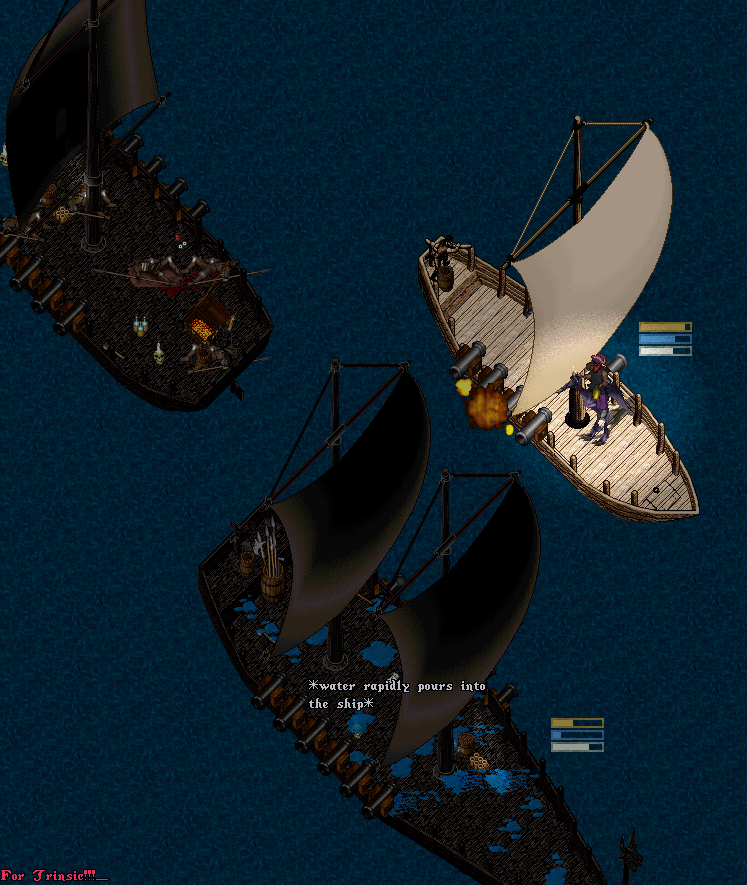 ​
This day had started like many others, a merchant Galleon was spotted just north of New Trinsic Harbor. The Lusty Wench and her crew closed quickly, bloodlust in their eyes, ready to take the easy prize. But just as they came into firing range, cannons appeared from hidden gunwales and began to fire. "It's a trap!!" yelled crewmate Ackbar.
They came abreast of the Galleons stern and let loose a devastating barrage. A short time later they were aboard the enemy ship, cutting down the remaining defenders and rounding up those that would fetch a descent price in the slave markets of Horseshoe Bay.
Outmaneuvered, King Arshiya's Merchant Galleon boarded and her crew put to the sword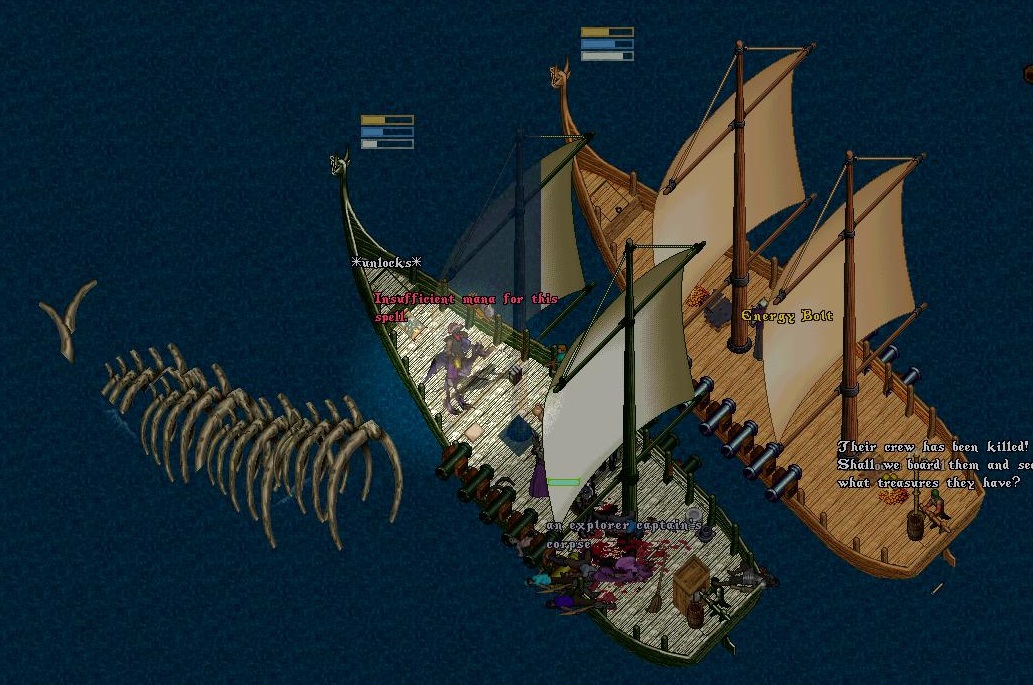 ​
"Fifteen thousand doubloons, ten thousand gold coins, a dozen or so slaves and a large cache of arms. Not a bad haul Captain." First Mate @Sly Marbo said greedily.
"Aye a good prize.. how many casualties on our end?" Jack asked
"A half dozen or so. Macshin is pretty busted up but we'll fit him with a peg leg and he'll be back to fighting shape soon." Sly answered.
"That bastard Arshiya will no doubt have more traps waiting for us as we close in on him. We're going to need more crew if we're going to take the city." Jack mused.
"Aye, I'll see to it the word is spread throughout the taverns and whorehouses. What about the remaining crew of this vessel?" Sly said pointing to the disarmed crew of the merchant Galleon.
"Too loyal to Arshiya to be trusted. Cut their throats and let's make ready to sail." Jack said, casually. Sly moved to carry out the grim task.
Jack knew they'd need more fighting men to depose the false King, and once that was done, to secure New Trinsic. The drums of war were already sounding in the north. Prevalia, Orcs, Vikings.. any one of them might march south on New Trinsic. He wouldn't wait around for that day. Better to take the fight straight to them, but first Arshiya... Head. Spike. Wall.
A message pinned at every tavern and whorehouse in Outland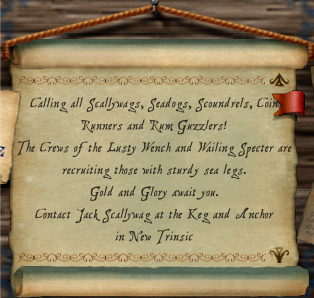 ​
Last edited: