Conquest Overview:
The game pits each participating RP guild against each other with the goal of domination over all of Avadon. This is achieved when a guild or alliance of guilds control 80% of land territories through any means for 4 consecutive turns.
Getting Started:
Each participating guild will claim a home territory and introduce starting characters into the game. Each turn begins with the guild choosing to claim unclaimed territories, acquiring claimed territories and/or moving characters around the map. New characters may be introduced at each new turn. New guilds may join at each new turn given their chosen home territory is unclaimed or surrendered by occupying guild for this purpose.
Turns:
Each turn will begin the Monday of each week. A post will be created and guilds will post on that thread with their moves for the week's turn.
Territories:
The map is divided into multiple territories. There are four types of territories:
Land territories are the most common type of territory. They are divided by size, terrain or distinct regions. The specific terrain plays a role during combat which will be discussed below in the combat section. The special type of land territory is the home territory of each guild. It is special due to the fact it cannot be fully claimed by another guild and if the defending guild "loses" their home territory they can choose to become a vassal or rebel guild which will be discussed below in combat section.
Sea territories are split into coastal territories and harbors. Harbors are sea territories adjacent to where an in game dock resides. These harbors can be claimed like any land territory. Harbor territories are special in that they are the only sea territories that can launch ships. More on ships discussed below in character movement. Coastal territories cannot be claimed and can have multiple guild's ships occupying the same territory which can lead to combat as discussed below in combat section.
Moving characters around the map:
At the start of every turn every character can be moved to any adjacent territory. Ships are required for characters to move around the map at sea. Ships may only be launched at harbors occupied by the guild launching the ship, however characters may board or disembark a ship at any coastal or harbor territory. Guilds must post any character or ship movement in their turn's forum post with the name of the character and ship and territory number they are moving to.
Claiming/Conquering territories:
A guild may attempt to claim up to 3 territories per turn as their number of characters allow. In order to claim an unoccupied land territory a guild must move 3 or more characters into the territory and claim it. To conquer an occupied territory two guilds must be in an open state of war. One guild will invade a territory occupied by the other with 3 or more characters. If the invaders win they will now claim that territory. The defenders must then move their characters to an adjacent territory they occupy. If no such territory exists the defending characters are reverted to their home territory. Territories may also be acquired through diplomatic means, they may be freely transferred by the occupying guild for whatever reason they wish.
If two guilds attempt to claim the same territory on the same turn a battle will be held and the winner will be awarded the territory.
Combat:
Raiding vs Invading:
A raid is an unofficial attack on another guild. The guilds may or may not be at war at the time. Regardless of outcome no territories change hands.
An invasion, as touched on above, may result in a territory exchanging hands. When an invasion battle is imminent the attackers and defenders are given until the start of the next turn to set a time and place for the battle. Which characters are taking place in the battle are determined by the characters position on the map. The attacking army (characters involved in the battle) may come from multiple territories as long as they are adjacent to the territory being invaded, similarly the defending army consists of characters in the territory in contention and all adjacent territories the defending guild occupies. Home territory defenders may come from adjacent and contiguous territories one territory away from home.
Here are some examples: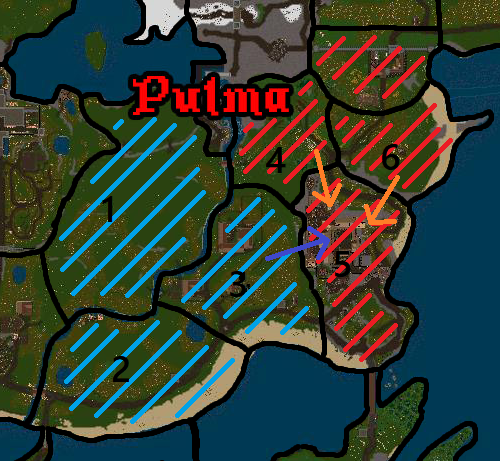 If the Blue guild invades territory 5 only characters in territory 3 may attack however characters in the territory invaded as well as adjacent territories 4 & 6 may join in the defense.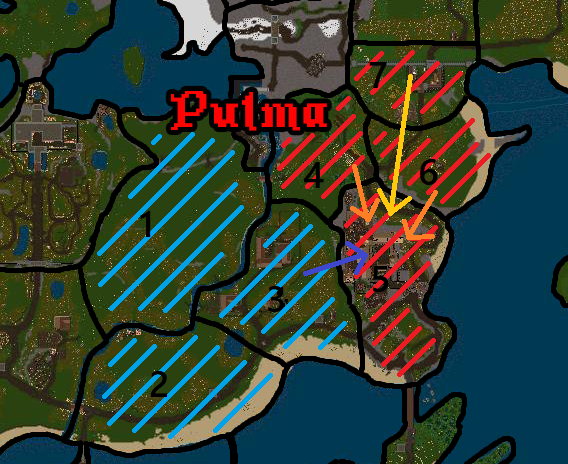 Now in this case if territory 5 is a home territory for the Red guild characters in territory 7 may defend as its two contiguous adjacent territories away.
If the roles were flipped and Red guild was invading territory 3 characters from territory 4 & 5 may participate in the attack while characters defending may be drawn from territories 1, 2 & 3
Ship to ship combat can take place any time two guilds occupy the same coastal territory if one of the guilds choose to attack. The losing ship is considered sunk (whether actually sunk or surrenders) and ship is no longer on the board and all characters are reverted back to home territory.
Terrain of the territories play a role in invasion battles: Battles on snow, swamp, desert or in a city are to take place without mounts. Battles when a force are attacking from sea must have invasion forces starting on their vessels and storming the beachhead. Battles at sea are boat to boat.
If a home territory is "lost" the losing guild has two options, they can become a vassal of the winning guild or remain a rebel force. The vassal territories count towards the winning guilds holdings and vassal characters can participate in the winning guilds battles if they choose and are legally in position to do so. A rebel force may choose to try to win back their home territory each turn if they so choose. Any other rebel held territories are fair game to attack and conquer just as normal. If a losing guild has no territories to move losing characters to they join the rebel force at the former home territory.
When a guild loses a battle the characters that took place in that battle cannot participate in another battle the following turn.
Diplomacy and Intrigue:
Navigating wartime is hard, managing peace is even harder. Use whatever tactics necessary in order to maneuver your guild to the best possible position.
Anything not stated as against the rules are far game. Trickery, deceit, bribes, backstabbing, under the table deals. All OK!
Winning
A guild wins when they control 80% of land territories for 4 consecutive turns and will be crowned the ruler of Avadon.
Official Map to be posted soon!
Proposed date to begin: December 24th!
Last edited: