Her made-up surname didn't stand for long, either the one she earned with gaining the favor of the old Friar. She was around long enough to be shortly known as Fara by the Pathfinders. Her devotion to the teachings of the Virtues and the Book of Truth was firm, yet her ambition was back, to her heart, where it belongs. As she was watching the stream flow, she got agitated by the fact that there was injustice at every inch of this realm. Everything could be much better and humane, yet the conditions were far from ideal. She squeezed the pen and crumpled the paper, shook her head, and sighed.
She saw Cassiopeia (Cass) lost in thought, a small tear running down her cheek, and a dark stallion right on her tail. Cass confided in Fara regarding her ordeal, how she met Beauty, the majestic dark stallion, and found her talents, how she felt so alone without any family there for her at the time. Cass hugged and praised Farah for listening to her. "What a great friend she is and what a kind soul she got in her." she thought. Then she realized Enoch was back, Cass was here, and The Order of Virtues was alive. Fara felt lighter for a second with this comforting thought.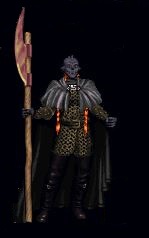 A strange impulse came over her, let Cass go her way, and rushed to her cabinet tiptoeing like a mischievous child. She pulled the terrifying Terran forest folk's traditional
iskelet
mask that Karac didn't want to wear, which they inherited from their grandfather. Terran forest warriors wore intimidating masks. Nowadays, it is not possible to hear or read the names of these warriors everywhere. Mostly remembered only by few Terran natives, those ancestors inhabited the forest long before a Terran was founded and established.
She grasped her bardiche, which she engraved her nickname Fara with crooked letters, was a short and light iteration of the weapon, designed just for her. She took them out of the closet and laid them on the bed. The mask stared at her. In a flash, she found himself wearing it, with the polearm in her hand. She felt so alive that she could feel his blood rushing every corner of her body. She swung the bardiche left and right. The dress she was wearing prevented her from moving freely, and the gloves made her feel like the giant sharp blade was going to fly out of her hand. She took both out, carefully placed them in her locker, along with the beautiful tiara Enoch had gifted her, on the day he also offered his fatherhood and surname. She left the cabin feeling like a 16-year-old fierce girl burning with anger, believing she can change the world, one way or another. She stamped the rosewood tip of the bardiche on the ground and loudly whistled to her horse.
Last edited: