Edit:
Luthius clarified in Discord that receiving two alacrity scrolls was intended. One gives a 24 minute buff (the short duration set accidentally), and the second one gives a 24 hour buff.
Apparently the word is 'alacrity' not 'alarcity'. I've been saying alarcity in my head my whole life and now I don't know what's real anymore.
/Edit
Considering the circumstances with which we were kindly gifted these Alarcity scrolls, I felt I should post about this right away.
Screenshot included below.
I appear to have two of the Alarcity scrolls gifted to players on 2020-03-24 when the shard came back online (~8 PM PST). The circumstances surrounding how I ended up with two alarcity scrolls:
- I logged on to my character Kinshack shortly after the shard went live again and hunted for a bit.
- After returning to the bank, one of the two alarcity scrolls appeared (magically) in my backpack. "Huh, that's odd". I placed the scroll in my bank and logged off for a bit.
- An hour or so later (~10:15 PST) I logged back on, and found another alarcity scroll in my backpack. The first alarcity scroll was still in my bank box so...I now have two.
- I moved both scrolls to my backpack to take the below screenshot.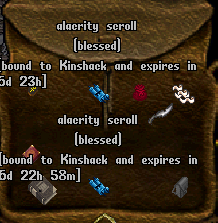 Let me know if you need any more info! My Discord tag is Tanarus#6443 if you'd like to contact me through that.
Thanks for the wonderful shard, and sorry that the last 24 hours have been such a headache for you all.
Last edited: