*Update: Recommend that you start with only one character. Recent changes prevent multiple characters from the same IP in dungeons. It's also a lot more fun to just play one character.
If you want some more template ideas (not covered in this tutorial), you can check out this page on the wiki: https://uooutlands.com/wiki/Templates
​
INTRODUCTION:
This is a very simple guide with the purpose to provide you with an easy suggestion on how to start from scratch on this shard and end up quickly with one or two characters that will be able to farm most content comfortably and without much investment. With those characters you can easily provide resources for your other, more advanced characters.
The characters will be dexxer macers with peacemaking and parrying for a significant defensive bonus and use forensic evaluation for more gold and tracking for a bonus to damage and to barding chance. They start in newbie dungeon until about 50 skill before moving on to regular dungeons.
If you don't want to spend time thinking about how to start from scratch, and wish you just had some resources to begin with, this idiot-proof guide is for you!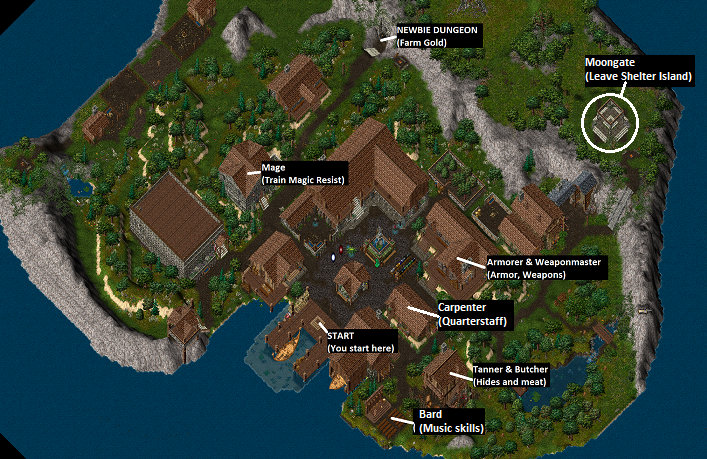 STEP-BY-STEP:
A) CREATE YOUR CHARACTER(S):
Character 1: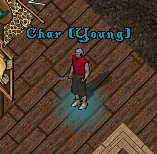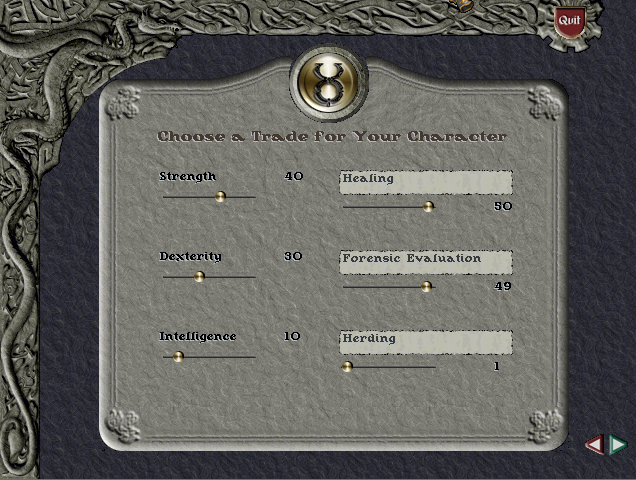 Starting skills:
- Healing 50.0 (75x bandages, +10 dex stone)
- Forensic Evaluation 49.0 (3x skinning knives, +10 dex stone)
- Herding 1.0 (1x Shepherd's Crook +10 str stone)
Starting stats:
- Str 40
- Dex 30
- Int 10 (Intelligence shall be marked DOWN to not gain any)
Purchase skills:
- Musicianship 50.0 (trained by Bard)
- Peacemaking 50.0 (trained by Bard)
Character 2 (optional):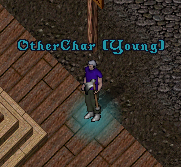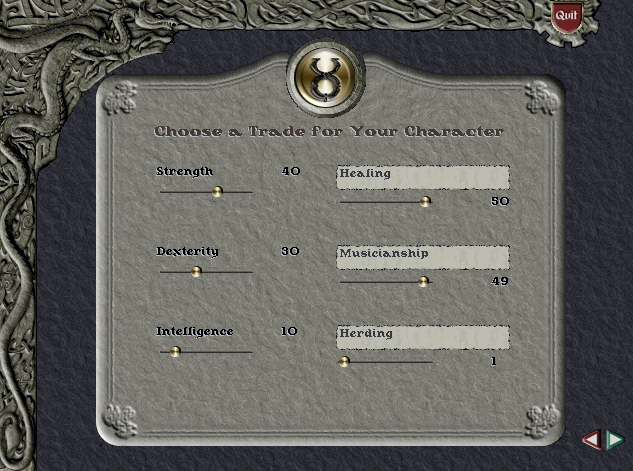 Starting skills:
- Healing 50.0 (75x bandages, +10 dex stone)
- Musicianship 49.0 (2x Instruments, +10 dex stone)
- Herding 1.0 (1x Shepherd's Crook +10 str stone)
Starting stats:
- Str 40
- Dex 30
- Int 10 (Intelligence shall be marked DOWN to not gain any)
Purchase skills:
- Peacemaking 50.0 (trained by Bard)
- Resisting spells 50.0 (trained by Mage)
STEP B) PREPARE FOR NEWBIE DUNGEON
- Remember to use your stat stones in one of your starting bags.
- Remember to go and purchase the skill as listed above.
- Remember to equip the Shepherd's Crook you got from herding.
- Remember to set some of your hotkeys, and some of the in game macros and options may need to be adjusted.
- Remember to turn on tracking to Hunting Mode, Current Combatant.

STEP C) GETTING A WEAPON (AND INSTRUMENT):
- Go to Newbie Dungeon.
- Kill Mongbats or any other mob until you have 50 gp.
- Remember to skin every mob with Forensic Evaluation.
- For 50 gp, purchase a Quarterstaff from the Carpenter
- If you didn't make two characters, farm another 50 gold and buy an instrument from the Bard.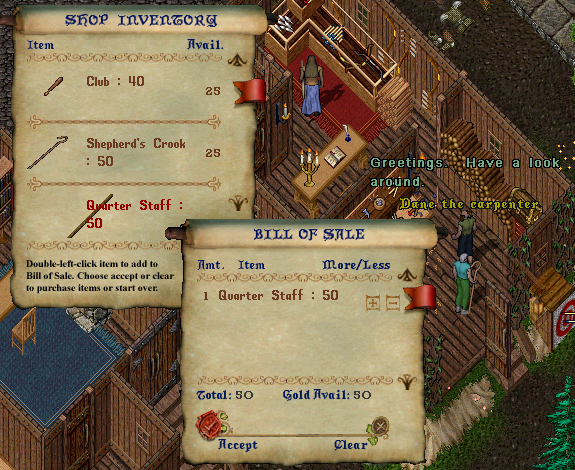 STEP D) GETTING BASIC SKILLS AND ARMOR.
- Farm until about 50 skill in each: Anatomy, Arms Lore, Mace Fighting, Tactics, Parrying.
- Remember to also use your Peacemaking skill.
- Continue farming until 250 gp, or if you feel comfortable not dying, proceed to step F.
- For 250 gp purchase a full set of Ringmail armor from the Armorer.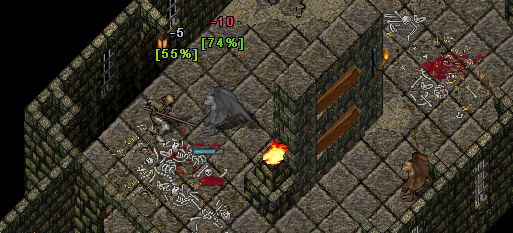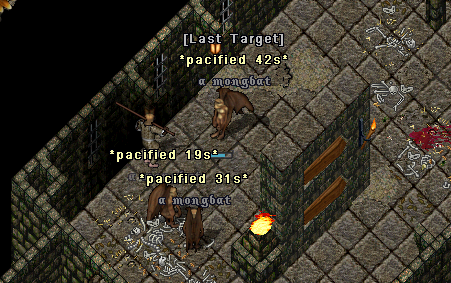 STEP E) CONTINUE FARMING SKILLS (Optional).
- If it fits you, continue farming Newbie Dungeon until 70 skill in each of the above listed.
STEP F) GO TO REAL DUNGEONS.
- At 50 skill and when you have a quarterstaff + instrument + optionally ringmail armor, you can leave Newbie Dungeon.
- Go to another dungeon of your choosing.
- Look at a world map to see where the dungeons are and which town is closest to run from.
- You can farm top levels of most dungeons, suggestions are: Aegis Keep, Pulma, Ossuary. Melee mobs are easiest to kill. Magic mobs are harder.
- With Peacemaking on one or two characters, you will be able to tackle most content if you are careful enough.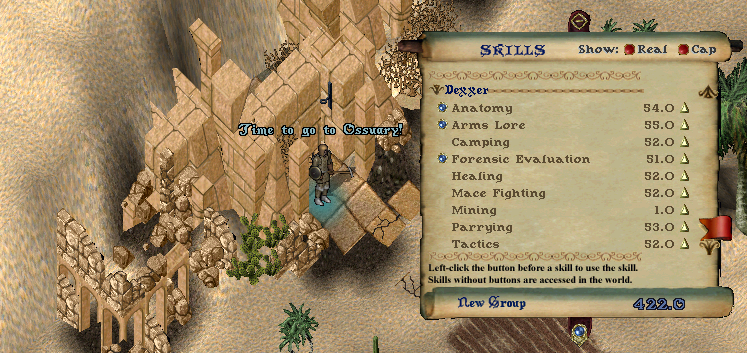 STEP G) THAT'S IT!
- That's it, the end of this very easy guide.
- Read the reasoning/explanation below and take advice from some of the hotkeys or macros.
STEP H) END-GAME TEMPLATE:
- The end-game template could look like this.
- Char 1: Musicianship, Peacemaking, Healing, Anatomy, Macefighting, Tactics and either: Arms Lore/Tracking/Camping/Forensics
- Char 2: Musicianship, either of Discordance/Peacemaking, Healing, Anatomy, Macefighting, Tactics and either: Arms Lore/Tracking/Camping/Forensic
- Transport in the end-game is generally done with a third alt or runebooks.
ALSO CHECK OUT:
- The different template selections from the wiki right
HERE
. The Husk Crab tamer can be recommended.
- AreYouKidden has a reply with a simpler template
HERE
.
EXPLANATION AND REASONING:
Why dexxers, macing, bard?
Dexxers are the least resource intensive class, and can be useful for killing mobs at practically zero skill. The only real requirement is bandages, which can be gotten through sheep or buying cloth from tailors (about 2 gold / bandage). It makes sense to start the shard with a character that can be played instantly, without waiting for skills to be macroed up or resources to be aquired. Two dexxers are also exceptionally good together crosshealing, and can tackle most of the end game in only budget gear. Macers specifically is the best DPS class of any dexxer, which is why we select them. Barding and especially peacemaking is a very good defensive skill that immobilizes enemies, which in turn also reduces your need for bandages.
Why the specific starting skills or stats?
Herding provides a Shepherds Crook as a starting weapon, which will allow you to gain both Parrying and Macefighting. Healing provides you with bandages, which are otherwise expensive to get. Forensic evaluation on Character 1 can significantly increase your gold gained if you skin all monsters and sell their hides and meat, and is pretty much a requirement to get. Musicianship on your second character gives you two instruments to start with. If you only make one character, you have to purchase an instrument. Having a higher strength as a starting stat allows you to leave newbie dungeon faster and be more resilient to spellcasters.
Why have Peacemaking on two characters, are there alternatives?
Peacemaking success chance works like this: ((Effective Barding Skill - (Creature Difficulty Value * 2)) / 100) , with a minimum success chance of ((Effective Barding Skill / 100) * .2)) You can check a creature's difficulty level by using Animal Lore ont hem. Peacemaking on both characters is not something you need in the end game, when the chance on one character is quite good, but in the start it is a nice thing that will let you farm hard content without getting killed. An alternative to Peacemaking on your second character, is to pick Discordance, if you are comfortable with that.
What about the other skills like tactics or Macefighting, shouldnt I start with/buy them?
No. The following skills that you will use: Anatomy, Arms Lore, Tactics, Mace Fightning, Parrying, Tracking will raise extremely fast from zero to 50 and you will not have to purcahse them or start with them.
What's the point of Forensic Evaluation?
Forensic Evaluation will provide you with hides and meat from any mob that you kill, the higher skill you have, the more resources you get (derived from the base amount of the creature). This translates to almost double income in Newbie Dungeon, and a significant boost elsewhere in the early game, since hides and meat both sell for 1 gold each. Forensic Evaluation also provides a small slayer bonus towards the monster type you skinned, but that is not the main reason we take this skill.
No Magery, no Camping - How am I supposed to get around the world?
You'll have to use the moongates (to get between towns) and run. Buy a horse whenever you feel you can afford it. Getting around takes time, but is otherwise not a big deal. Camping is ineffective as a transportation skill at the start, since it requires 80.0 skill to get to dungeons which only comes after significant macroing which takes both time and resources (kindlings). Magery and recalling is decent, but requires quite a hefty time and gold investment. You need to purchase a recall scroll (100 gp) and spellbook (60 gp) for each of your dexxers. You need to create a third character with 50.0 Magery (+250 spell stone) 50.0 Inscription, and 1.0 Spirit Speak (+250 spell stone) and purchase a Mark scroll (500 gp). Then you probably need to macro your Magery a bit before you can Mark. Then you have to spend the time to go and mark the rune at the spot you want. So, aiming for Magery + Recall or Camping after a bit, is not bad, but it's not something you should worry about at the very start.
Do I need to think about stats at all?
No, not really. The only consideration we put into stats was when we created our character and we purposefully took some more strength (hit points) than dexterity. If you turn off your intelligence gains by pointing the arrow down, you should gain strength and dexterity at a perfectly acceptable rate without having to put special thoughts into it. If you also use a camping macro and place kindlings, you can get a few extra points of strength, however.
Do I need to make two characters, what if I just want to make one character!
The main reason for creating two characters is for the supreme power of crosshealing in the mid/endgame. Healing another player with bandages has a very short bandage timer, which provides a huge bonus to survivability and enables a team of two dexxers to take on most content. The only problematic content are mobs that are able to burst you down before your bandage timer pops up - which turns out to be very few mobs. The main difference between playing with only one character, is that once you encounter hard content and yoAt the early game, another valid reason is that you have another character that can attempt to use Peacemaking.u have enough resources, you need to set up a running macro that automatically applies bandages to your partner. This is very easy to do and not needed at the start when mobs don't deal so much damage. In the start it is fully sufficient to apply bandages manually.
What is the point of Parrying?
Parrying uses either a shield or a two handed weapon. Parrying provides two different defensive bonuses. It blocks attacks and - if you use a shield - it provides AR (armor rating). We are going to use the first one - blocking. The type of shield or the type of two handed weapon does not matter for block rate, which is why we get the cheapest one. Any shield or two handed weapon at 50 parrying roughly provides 20% damage reduction from blocking attacks alone, which turns out to be a very noticeable boost in survivability. This defensive buff roughly translates to 40AR, which is a bit more than the AR provided by a vendor bought set of Ringmail Armor. Parrying will also provide a significant reduction in spell damage, due to the ability to parry spells (roughly equivalent of GM resist at GM parrying).
Why a quarterstaff? I don't like it.
My reasoning is that it's a good tradeoff between damage and speed. Weapons come in five categories: Interrupt, Grinding (light), Grinding (medium), Burst and Training Weapons. Interrupt are the fastest category of weapons. For macefightning it includes: club, hammerpick and war axe. In Grinding (light) there are: mace, maul, war mace. In Grinding (medium) there are: gnarled staff, black staff, quarter staff, and in Burst there is: warhammer. All weapons in the same category are effectively the same. If you want a little bit more damage, get a Grinding (medium) weapon, since the other ones are two handed, and we don't want to lose out on the big parrying buff. A legitimate alternative to a quarterstaff is to use a mace/maul/war mace + shield (if you want the additional AR from a shield).
So why Ringmail Armor?
Ringmail armor is at a nice balance between price and armor provided. Armor is otherwise quite straight forward - you should get the one with the highest AR. More AR translates to more damage reduction in a linear fashion. A full set of chainmail has slightly more AR and costs 30 gp more, a full set of platemail has the best AR but costs about 90 gp more. Get the best one you can afford.
Why not stay in Newbie Dungeon until 70 skills?
Newbie dungeon has very low gold, but an increased skill gain rate (even compared to other dungeons). I found the skill gain to be very slow at about 50, however, and I believe you would lose a lot of potential gold if you stay until 70 in all skills. You may, however, it's up to you. Another benefit of leaving Newbie Dungeon early is that you are still considered a Young player, which means that a lot of your starting gear will still be blessed. The difficulty of leaving Newbie Dungeon is that you will generally have to go farm in another dungeon with more diverse mobs, some of which you may not have a chance to kill at all. However, from my testing, you will generally be able to farm the first level and then some, of any dungeon. So when you leave, you have to pick your targets/farming spots carefully. My advice: Go for melee mobs, stay away from spellcasters and mobs that deal other special effects. It should work out fine. If you fail outside, go back to Newbie Dungeon.
How can I maximize my gold gains in Newbie Dungeon? Mongbats... Really?
I tested it for a bit and my conclusion was that everything in newbie dungeon drops so little gold that it doesn't matter to try to min/max finding the best mob to farm inside of Newbie Dungeon. It's better to farm whatever is right in front of you - it may be mongbats or it may be something else. Some mobs are outright bloody dangerous - such as the spellcasters and the mobs that cause poison or disease. So don't spend time thinking about what to farm in Newbie Dungeon. Get your basic gold there, your skills to a certain level, then leave for a real dungeon.
My bandages ran out and my instrument broke - what do I do? You said I didn't need resources!
Yes, the main resource you need are bandages. You start with a healthy amount that will take you quite far (about 175 bandages). There are many ways to get bandages, the bottom line is that it's not free. You either have to cough up about 2 gold per bandage by buying cloth from a tailor, or spend time shearing sheep. Personally I go for the tailor, but if you see any sheep along your path - by all means. If your instrument breaks, get a new one from the bard for 50 gp, they come with 500 charges, which should be more than enough.
SOME USEFUL MACROES AND HOTKEYS
The hotkeys I have on my dexxers, ones that are in bold are recommended, others optional. You dont have to bind it to the same key as I have:
- Alt 1: Unequip Left Hand
- Alt 2: Unequip Right Hand
- Alt W: Use Bandage
- Alt E: Last Skill (Peacemaking)
- Ctrl X: Last Object
- Ctrl Z: All Names
- Alt 4: Open Door
- 2: Last Target
- 3: Target Self
- Alt Q: Use Skinning Knife
- F2: Use Yellow Potion
- F3: Use Orange Potion
- F4: Use Red Potion
- F8: Use White Potion
When you get more advanced and use two characters farming high end content, you will need a looping macro that automatically applies bandages to your partner. It is a very simple macro that looks like this: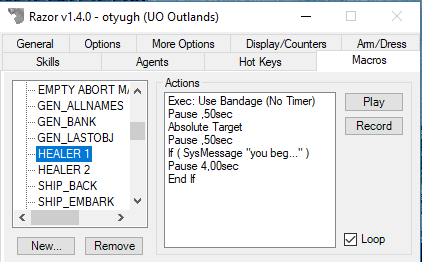 - Healer 1 and Healer 2 - one macro for each character.
- Absolute target = Your partner.
- The macro keeps applying bandages until it detects that you started applying one (which is the SysMessage "you beg..")
CONCLUSION:
This is a very simple guide to give you a solid template to start out from. If you're having trouble figuring out how to start to bring in a steady supply of resources, this guide is for you. You can take these characters all the way to 7x GM and enjoy them there. Or you can use your supply of gold and loot to create some of the better/more convenient PvE templates (such as tamers or bards), but which aren't really playable out of the box. Good luck!
Last edited: