Written by @Calak
Avadonian folklore tells of an abominable green behemoth who desired all of the shiny things in the world. This creature was called The Gronch. Every year, without fail, The Gronch would surface when snow heavily blanketed the land. He and his miscreant minions would assault unsuspecting adventurers, in an attempt to take their shiniest objects.
This spelled disaster for many people of the land, for they celebrated the coming of Winter Solstice by hanging shiny baubles on evergreen trees. Jealous of these trees and their shinies, The Gronch corrupted the evergreen trees, turning them into Nevergreen trees, breathing foul life into them, causing them to warp and take on the will of their new master.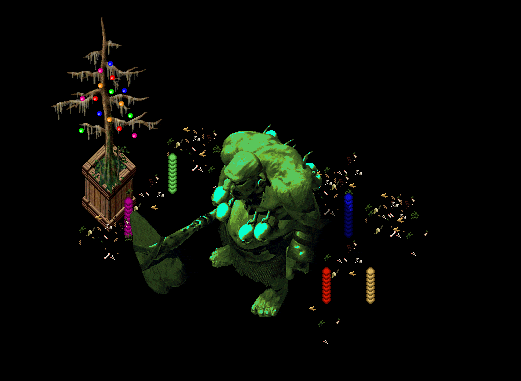 ​
​
Thus The Gronch terrorized the people each year... but no more! My name is Calryn, former Captain of the Prevalian Royal Guard. I am seeking the aid of all able bodied Adventurers to heed my words!
The Prevalian Council for the Preservation and Also Advancement of Holiday Cheer and Non-Descript Generalized Festiveness (P.C.P.A.A.H.C.N.D.G.F) have requested the expertise of the Prevalian Royal Guard due to a certain mishap involving a shipment of holiday ornaments having gone missing earlier this month. We have a strong suspicion that it was The Gronch who orchestrated this travesty. After many weeks of painstaking tracking, we have discovered its lair. We must put an end to him, once and for all! Now that the holiday has ended, The Gronch will be tired and vulnerable to attack. We must strike while the iron is hot!
All of those who choose to join us in this venture, we will meet in the Town Center of Prevalia on:
Saturday, January 5th at 6:30pm EST
(event begins after the
Developer Debrief
)
This will be a dangerous outing. Come prepared for battle!